Waste processing plant inaugurated near Sofia
Bulgaria September 14, 2015 | Comments: 0Author: Balkan Green Energy News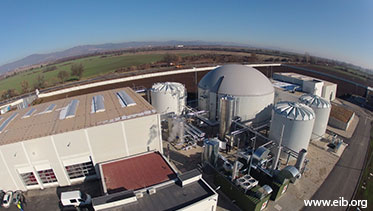 A mechanical-biological treatment facility with a capacity of 410,000 tonnes of mixed waste per year was launched in the village of Yana in the Kremikovtsi administrative district of Bulgaria's capital, Focus Information Agency reported. The project was carried out with the financial support of national Operational Programme Environment 2007–2013 and a EUR 33 million loan from the European Investment Bank (EIB), the press centre of the Municipality of Sofia said.
Furthermore, the bank is considering the possibility to fund the planned construction of a combined heat and power (CHP) plant. The state capital is the beneficiary of BGN 346 million (EUR 177 million) in funds, of which EUR 149 million is gratuitous financial aid.
Facilities include a sanitary landfill, a mechanical-biological treatment plant, and bio-waste and green waste composting plants, located at two different sites. The processing plant will produce refuse-derived fuel (RDF) that can be used in cement kilns and by power plants such as the future Toplofikacia cogeneration facility.
"Our support for Bulgaria so far is estimated at EUR 4.5 billion," said László Baranyay, vice president of EIB, who attended the ceremony. "This modern facility represents a major step towards improving the environment and the health of the citizens of Sofia and will generate significant efficiency gains for the city's waste management services. It will also enable Bulgaria to meet its international environmental and climate change obligations," he said. The bank has supported the preparation of the project through Jaspers (Joint Assistance to Support Projects in European Regions) in order to secure grants from the European Union. At a later stage, EIB also provided technical advisory services.
The project was financed under the European Regional Development Fund (ERDF) and the state budget of Bulgaria through OP Environment 2007–2013 and under its Priority Axis 2 'Improvement and development of waste treatment infrastructure'.
"The plant for mechanical-biological treatment of waste is the largest industrial construction project [realized] through public resources in the past 25 years and is of key importance to the functioning of the capital city," said Yordanka Fandakova, mayor of Sofia.
Kristalina Georgieva, European Commission's vice president for budget and human resources, stressed the third stage of the project would be worth EUR 138 million. "We will be able to use waste to provide warmth to our families at a lower price," the senior EU official said further.
On September 4, EIB published its plan to finance the Toplofikacia CHP project with a loan of EUR 45 million. The cost of constructing plant is estimated at EUR 135 million. The project concerns the construction and operation of a cogeneration plant processing more than 100 tons of RDF a day, and the fuel will be produced at the mechanical-biological treatment plant. The CHP facility will feed its electricity into the public grid, and provide heat to the district heating system of Sofia. It will partly replace heat generation in existing gas-fired installations.