Energy Days Sarajevo 2015
Bosnia and Herzegovina September 19, 2015 | Comments: 0Author: Branislava Jovičić
Photo: GIZ ORF-EE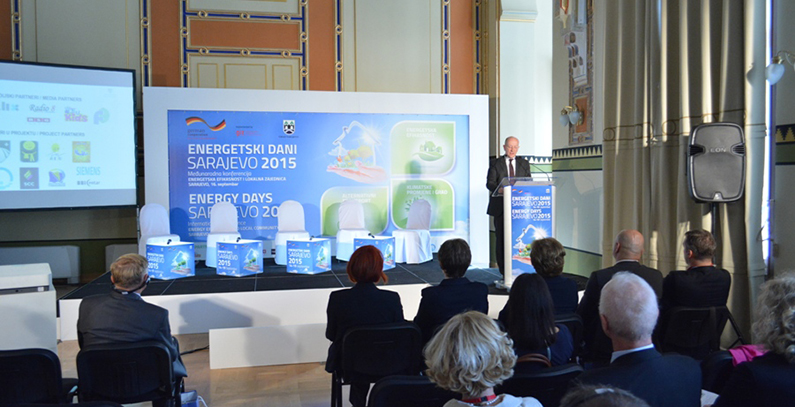 The City of Sarajevo hosted Energy Days Sarajevo 2015 held from September 14 to September 19. The event brought together participants active in the energy efficiency sector in Southeastern Europe. The event was supported by Deutsche Gesellschaft für Internationale Zusammenarbeit (GIZ) – Open Regional Fund for South-East Europe – Energy Efficiency (ORF-EE) and featured several activities accompanied by an intensive public awareness-raising campaign on the subject of energy efficiency and climate change mitigation.
Energy Days gathered representatives of national and regional institutions, such as the Network of Energy Efficient Capital Cities in South-East Europe, entities mandated with energy efficiency, the international community in Bosnia and Herzegovina (BiH), GIZ ORF-EE's project partners and students. The focus was on provision of support to Sarajevo in becoming an energy efficient community, including the establishment of a platform for collaboration and exchange of experiences and best practices.
Energy Days featured an expert conference titled 'Energy Efficiency and Local Community' in the City Hall of Sarajevo on September 16 – the International Day for the Preservation of the Ozone Layer. It was attended by Christian Hellbach, the German ambassador to BiH, who stressed the importance of reduction of greenhouse gasses emission, and the need to tackle "climate change as the biggest challenge of our times." Ivo Komšić, mayor of Sarajevo, used the opportunity to remind that "we all need to use energy wisely."
Main conclusions from the conference focused on awareness raising being of utmost importance for behavioural changes of society, which should foster progress in the area of energy efficiency. Further accent was placed on the need of adoption of the energy efficiency law in the Federation of Bosnia and Herzegovina (FBiH) and alignment of BiH legislation in this field with EU acquis. Necessity for simplification of procedures for obtainment of licences for implementation of projects relevant for energy efficiency, and the importance of completion of the Sarajevo bicycle lane project were other significant conclusions. Energy Days also featured a first-of-a-kind thematic session on the topic of energy efficiency held in the Parliament of FBiH, aimed at fostering progress in implementation of these changes.
As the closing event, a cycling day titled 'One Tour for a Clean and Safe City' was organized on September 19. More than 300 children and adults took part in this activity and contributed to broader public awareness raising on energy efficiency.