AQOS – proving future of electric cars is in photovoltaics
August 25, 2016
Photo: Aqos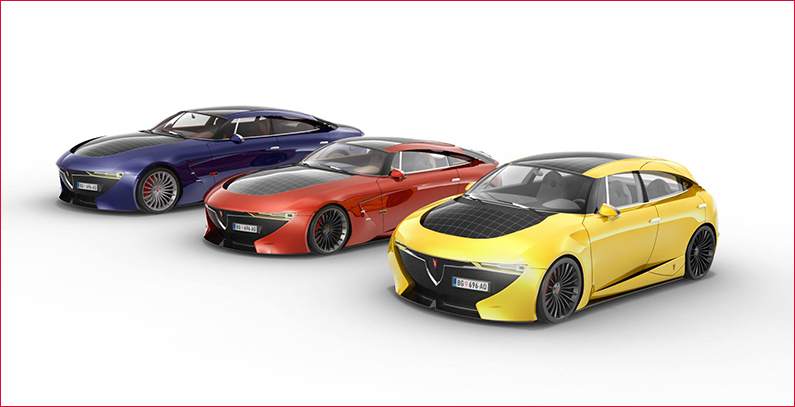 The market is looking for a new and inexpensive solution in the field of solar cells. The main challenge is to increase their distribution or to create them in a way that they can produce electricity at all outdoor environments.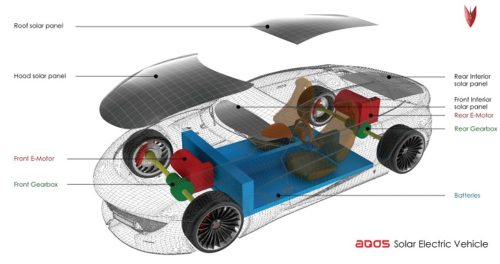 There are certain facts about solar cells most scientists in this field agree with. One of them is that the low efficiency and high cost of currently used solar photovoltaic systems are one of the main reasons for their reduced availability and usability; they are inaccessible to the common man. Also, design depends not only on the light and its distribution (indoors 1–10 W/m2 and outdoors 100–1000 W/m2) but on the materials and technologies used as well. The efficiency of photovoltaic cells is usually reported for standard testing conditions (STC) only, which implies irradiation of 1000 W/m2, spectral composition of air mass (AM) 1.5 and solar cell temperature of 25 °C. But the fact is that energy output of photovoltaic systems strongly depends on irradiation conditions and also that most of the total solar irradiation that reaches the Earth is below 1000 W/m2, the value used for STC. Hence the research related to low light intensity is of crucial importance. Those conditions are almost everywhere.
Perhaps solid efficiency of cells at low light intensities with cheap technology could compensate higher efficiency in rare and extreme conditions of one sun. Standard requirements for low intensity lights have not been established yet but they are very important, and there is a great possibility that, at certain spectral distribution of low-intensity light, cells of no less efficiency than those operating under extreme condition of one sun can be designed. Light at different intensities cannot be changed, but different lens systems can change its distribution at wavelengths. As soon as one manages to understand how to change the spectral light distribution and determine the most optimum one for the fabricated low-light intensity cells of high efficiency, this knowledge will be incorporated into future cell technology.
High-efficiency solar cells of just 5% of the sun (cloudy weather) cover all conditions for outdoor use, especially in areas where there is not much sun. On the other hand, light intensity of only 5% of the sun is low enough that designed solar cells can find indoor advanced applications.
Solar cells for indoor use in the auto industry weren't introduced, due to the extremely small currents of so far known cell products. Making roof structures in cars from so far known solar cells requires linking with external weather conditions. So the idea is the further development and improvement under artificial light, achieving the goal in which our cells will be used to produce additional and complete electricity in cars – the exterior and interior design in cars.
The decrease of solar cell efficiency towards weak light (except in the case of amorphized-Si) is very dependent on the cell technology. This reduction in efficiency depends very much on the shunt resistance (RSH) within the cell, and this parameter in turn depends on the fabrication process. A low value of RSH, and poor solar cell performance at low light intensities, is an indication of a faulty manufacturing process. Amorphous silicon solar cells from a good one can exhibit a very high value of RSH, and thus also excellent performance at low light intensities. This feature makes them particularly suitable for indoor applications.
Our research is focused on solar cells made for the first time completely from synthesized material Sb2S3. The cell has an extremely high efficiency at low lights and, according to the results reported in scientific literature, this is the most efficient solar cell reported at low lights. One of the reasons for high efficiency at low light is the appropriate distribution of visible light that we achieved by using different lens systems. The cell has a high efficiency of 8% to 9% per square centimetre at very low light intensity of only 5% sun, which makes it particularly suitable for advanced indoor applications.
Cheap weak- and low-light effective hybrid solar cell based on Sb2S3
So far, the level of exploration of solar cars as alternatives to conventional ones left space for tolerance towards their design, which was almost always characterized by a lack of aesthetic and functional solution as a result of sacrifice to the function of solar panels. AQOS has set for itself as a top objective dealing with these two challenges, namely the reconciliation of aesthetic, functional with a technological aspect of building cars. Consequently a solar film was developed with characteristics that left space for designing thematic solar-conventional vehicles where aesthetics will not be compromised by solar cells. Furthermore, they will utilize the texture and appearance of the cells as indigenous art motif that should give a new visual and distinctive character to the vehicle and open new market and chapter in the auto business.
The solar cell has flexibility by two axes, and we are working on all three axes, with increased efficiency in all lighting conditions at an entirely new level that gives solar car a real possibility of use and market exploitation.
AQOS car project represents an excellent basis and ground (embryo) for scientific and technical-technological applied research of the highest level. The design essentially has the task of initiator and catalyst of new engineering solutions with the intention that these engineering solutions actually present the inventions at the level of patent values.
Therefore AQOS cars represent a scientific test platform with innovative technologies that will be implemented through research and development of prototypes of cars.
Fabrication of a hybrid solar cell based on synthesized doped and undoped Sb2S3
Composite film consists of amorphous Sb2S3/PANI thin film on indium tin oxide – ITO-coated glass as a working electrode and TiO2 thin film, as well as aluminium as a counter electrode and 0.5 M KI + 0.05 M I2 as an electrolyte. The composite made of synthesized amorphous Sb2S3 nanoparticles and synthesized PANI, dispersed in ethanol, was used for deposition of the first thin layer. Synthesized TiO2 nanoparticles dispersed in ethanol were used for the second deposited film. The mentioned thin films were prepared by spraying dispersions onto preheated ITO-coated glass. The deposition temperature was around 110 °C, and both films were subsequently dried at 80 °C in an oven for 24 hours. The thickness of each deposited film was about 100 nm.
The cell architecture – hybrid solar cell based on synthesized Amorphous Sb2S3 – is presented in Figure 1. Figure 2 also shows an image of a thin film made of p-doped Sb2S3 + PANI/amorphous/undoped Sb2S3 + PANI/n-doped Sb2S3 + PANI deposited on ITO glasses. Accented dark green color of the film comes from an extra layer of PANI.

Typical illuminated I–V plots of fabricated cells based on the synthesized amorphous Sb2S3/PANI composite thin-film electrode, and based on synthesized p-doped, n-doped, and amorphous/undoped Sb2S3/PANI composite thin films under low illumination of 5 and 25% sun are shown in Figures 3 and 4. Two cells (Figures 3a and 3b as to Figures 4a and 4b) were made to be the same.
The right-hand side of Figure 3 shows the changes that exponential curve translates into a linear dependence with changes made to the series (RS) and shunt resistance (RSH). That is exactly what was observed in the cells while changing the light intensity from 25% to 5% sun (see Figure 3). Series (RS) and shunt (RSH) resistances in solar cells affect the illuminated current–voltage (I–V) characteristics and cells performance.
The efficiencies of the cells (Figure 3) are η(a) = 0.74% and η(b) = 0.8% for 25% sun and η(a) = 2.71% and η(b) =2.4% for 5% sun. The efficiencies of the cells (Figure 4) are η(A) = 2.12% and η(B) = 1.86% for 25% sun and η(A) = 9.03% and η(B) = 8.22% for 5% sun. It is obvious that the cells exhibit higher efficiency at lower light intensities.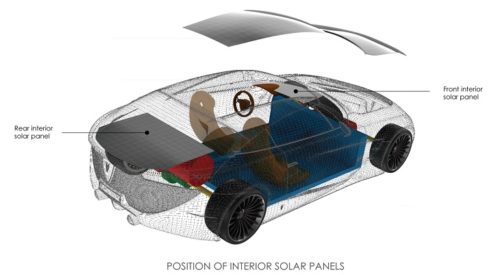 Both the left- and right-hand side of Figure 4 also show the changes that weak exponential curve translate into a linear dependence with changes made to the series (RS) and shunt resistance (RSH). That is exactly what was observed in the cells while changing the light intensity, from 25% to 5% sun. Figure 3 shows very high calculated values for RSH of 300 and 453 ohm and 1185 and 1556 ohm at 5% and 25% sun illumination, respectively, and for RS of 163 and 155 ohm at 25% sun illumination (3 cm2 cell format). Figure 4 shows the calculated values for RSH of 130.09 and 168.59 ohm and 102.87 and 113.29 ohm at 5% and 25% sun illumination, respectively, and for RS of 86.16 and 105.46 ohm at 25% sun illumination (3 cm2 cell format). RSH has a negative effect on the cell efficiency at STC when decreasing below 1,000 ohm cm2, but the weak light performance of the cell and its efficiency is already reduced when going below 20–30 ohm. The RSH for our designed cell under weak light satisfies the STC (Figures 3 and 4). Namely, as the intensity of the incoming light is varied from standard condition (intensity of approximately 100 mW/cm2) to low light levels, the effect of the RSH becomes increasingly important. As the light intensity decreases, the bias point and current through the solar cell also decreases, and the equivalent resistance of the solar cell may begin to approach the shunt resistance. When these two resistances are similar, the fraction of the total current flowing through the shunt resistance increases, thereby increasing the fractional power loss due to shunt resistance.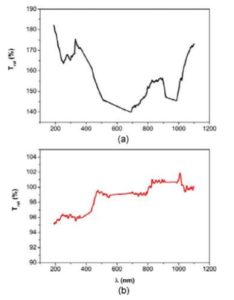 Consequently, under cloudy conditions, a solar cell with a high shunt resistance retains a greater fraction of its original power than a solar cell with a low shunt resistance. Probably because of the high shunt resistance, we do not see a decrease in the current at the turn of the higher light intensity (25% sun) to lower (5% sun).
In general, as we already mentioned, the presence of these shunts can be seen from the linear slope of the illuminated I–V curve, and that is exactly what we see in the figures, a linear I–V dependence for RSH and 5% sun only. We have already seen that the designed solar cell exhibits better efficiency at lower light intensities. We used an optical glass lens, 0.25 sun illumination and a flow water lens, hand-made, with through-flow water cooling 0.05 sun illumination interposed between the lamp and the cell to prevent heating of the cell. The flow water lens completely abolished the effect of the temperature. The dependence of relative transmittance of glass lens (a) / flow glass water lens (b) compared with transmittance of lamp without lenses on wavelengths is presented in Figure 5.
Different permeability of lenses in different areas of the spectrum was found to be one of the possible explanations for the resulting higher efficiency of solar cell at lower intensities. Obtained results indicate lower permeability of flow water lens in the ultraviolet region (up to 375 nm) and almost constant value in the visible and the NIR region. In the case of glass lens, relative transmittance in the visible region decreases with an increase in wavelengths and has the lowest value of around 690 nm. In the case of flow water lens, there is no significant difference in relative transmittance in the wavelength range from 460 nm to 790 nm. Generally, doping of the samples definitely affects the photocurrent, cell resistance, fill factor (FF) as well as other features, but the prospects for the fabrication of cells of higher efficiency at lower light intensities different distribution of the light intensity at wavelengths is mainly responsible.
The I–V characteristics of the made ITO/p-doped Sb2S3 + PANI/amorphous/undoped Sb2S3 + PANI/n-doped Sb2S3 + PANI/ PANI/electrolyte (0.5 M KI + 0.05 M I2)/Al cell in the dark and illuminated by light are shown in Figure 6. After illumination, the shift of the I–V curves into the fourth quadrant shows that the cell worked as an electricity generator. As can be seen in the figure, because of very high photocurrent and limitations of the instrument, the cell area is reduced to 1.5 cm. Upper limit of the digital multimeter is 2.4 mA.
The photovoltage rise and decay curves recorded with glass lens (25% sun) and flow water lens (5% sun) are presented in Figure 7. It reveals that the photovoltage decrease is quite a slow process, particularly pronounced in the case of low light intensity of 5% sun. Further, short circuit current and open circuit voltage (ISC and VOC, respectively) as a function of light intensity with the optical glass lens, 0.25 sun illumination, and the flow water lens, 0.05 sun illumination, respectively, are presented.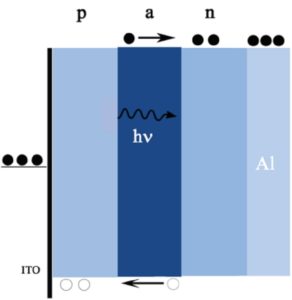 Also a schematic band diagram of an ITO/p-doped Sb2S3/amorphous/undoped Sb2S3/n-doped Sb2S3/Al junction is presented in Figure 8. Typical solar cell has a p–a–n (or p–i–n) diode structure, similar to amorphous silicon solar cell where p, n, and a (or i) refer to doped and intrinsic (undoped) layers. The light is entering through the p-layer, which efficiently supports hole collection in the device. The reason for this is the low rate mobility of holes compared with electrons. In support of this assertion, experiments and theoretical calculations performed for the synthesized Sb2S3 showed significant differences in the effective masses of an electron and a hole (me* = 1.035 me and mh* = 1.843 me).
According to calculations, the effective mass of a hole is much greater, which means that holes are less mobile than electrons. A transparent conductive oxide (ITO) film contacts the diode from the front side and, in the simplest case, a metal film serves both as rear contact and back reflector. Thin (30 nm) p-doped and n-doped layers build up an electric field over the intrinsic (i or a) layer. Electrons and holes generated in doped layers partly contribute to the photocurrent because of their shorter lifetime in doped samples. Electrons and holes generated in the undoped/amorphous layer are driven to the n-layer and p-layer, respectively, by the internal electric field. The quality of the doped and undoped layer material, strength and distribution of the electric field, as well as the presence of PANI, a conductive polymer, are responsible for the charge carrier collection and mainly determine the solar cell performance. It should be noted that the cell made of doped samples without PANI works as an electricity generator but with lower values of photocurrent and reduced efficiency. It is also important to note that extra layer of PANI does not affect the efficiency and operation of the cell, but only protects the film from corrosion by the electrolyte.